What's On?
"Female Gaze" Exhibition
New work in Lisboa, now.
What is it about?
The female right to exist in the visual space (artistic, political, social) without the concern of pleasing or match aesthetic stereotypes and under unusual contexts: Aging, ugliness, worrying, uneasiness, attrition and even annoyance.
Women as creators and not only as muses; Also, in intimacy, at rest, and in a more introspective posture.
All new work are at show now at the "Female Gaze" exhibition at Ordem dos Engenheiros, in Lisboa, from October the 10th to November the 10th, Mondays to Fridays, from 9 a.m. to 6 p.m.. For further details, please check the "upcoming events" section of this website.
The unifying element of this exhibition is "female gaze", which means "the representation of women without being subject to what Laura Mulvey defined in 1975 in" Visual Pleasure and Narrative Cinema "as" the male gaze ", which stems from the fact that, traditionally, in the film industry, women are generally the object / focus of attention and men are behind the camera and therefore the point of view is masculine (…) ".
Full interview.
I was featured in Lux Woman magazine, September 2019 issue. Check out the 4 page interview.
Journalist: Leonor Antolin Teixeira.
Photos by João Silveira Ramos.
Me, Ugly
This new series was started in 2018 and (so far) completed in 2019. It's a series of self-portraits in which I depict myself in an unflattering way, for the first time in my life not trying to look beautiful, embellished or pleasant. I'm looking for flaws, signs of age, even scary features, according to the tradition and the patriarchal culture under which we live. That's why I finished the series (that has simpler self-portrait paintings, under these features), with this composition based on the Medusa figure, for so long associated with women out of control, witched, with an evil spell casted on. Medusa was also the representation of the older women, unapologetically showing signs of senescence, elderly, rage. Here, I don't show a head full of snakes, but full of oppressing, stressing hands, that pull and push, oblige, measure, threaten and bully, trying to silence and make this older, raging woman, deaf and tamed. Like the spell casted on the originally beautiful maiden, because she was raped by Poseidon and got pregnant, these hands are the forces that try to condemn women upon their conceiving, through the impossible tasks of perfect motherhood, perfect marriage and superb career management, as well as implying they can not grow old, be ugly, relax and live to themselves, fulfilling their wishes and dreams, tracing their own, independent, satisfying plan.
"When we asked women what female rage looks like to them, it was always Medusa, the snaky-haired monster of myth, who came to mind", in The book Female Rage: Unlocking Its Secrets, Claiming Its Power by Mary Valentis and Anne Devane.
Well, I say that women must address their rage, commit to their anger, command their own lives and that for that they deserve praise.
We have the right to be old and celebrate it. If not depending on the opinion of others, such as the male gaze, getting old is becoming better, happier and in many ways life gets easier. Not being under constant scrutiny, by one's self or others, regarding seduction or erotic capital, is radically liberating.
We have the right to be ugly. We have the right to occupy the public space with our real looks, free from stereotyped beauty impositions, impossible eternal youth, and be portrayed as humans, full of interests, knowledge, self-assurance and flaws.
These are the themes I'm wishing to work on in the nearest future: aging women, female rage, ugliness and the right to be rather than to seem.
Ugly Drawings
I imposed myself these exercises of freedom.
As I usually look for resemblance and tend to perfectionism, I've been loosing a lot of freedom to draw.
So I set apart any guidance or amendment, in order to error freely and do some "ugly drawings".

I started with the enraged, greedy and grotesque, profoundly human characters from "Fleabag", my favorite series of the moment, and set myself loose with the brushes and ink on watercolor paper. Some drawings diverged immensely from my object, but I love them all the same.
And some came up really nice! Never the less, I find them very interesting.
Then, I started painting some politicians and world leaders in order to invest in some contemporary, actuality and political illustration. I also did some cultural icons and didn't resist the temptation of portraying some friends too, although these are not fair pictures of their handsome features.
These are rough, quick drawings made with no previous sketches or studies and I do not correct them, in the sense that I can not undo the trace of ink on paper, so, I just go for it, wherever that leads me. It's been refreshing and fun.
Check more ugly drawings here or in the "buy originals" section of this website.
And there are always new updates on my Instagram.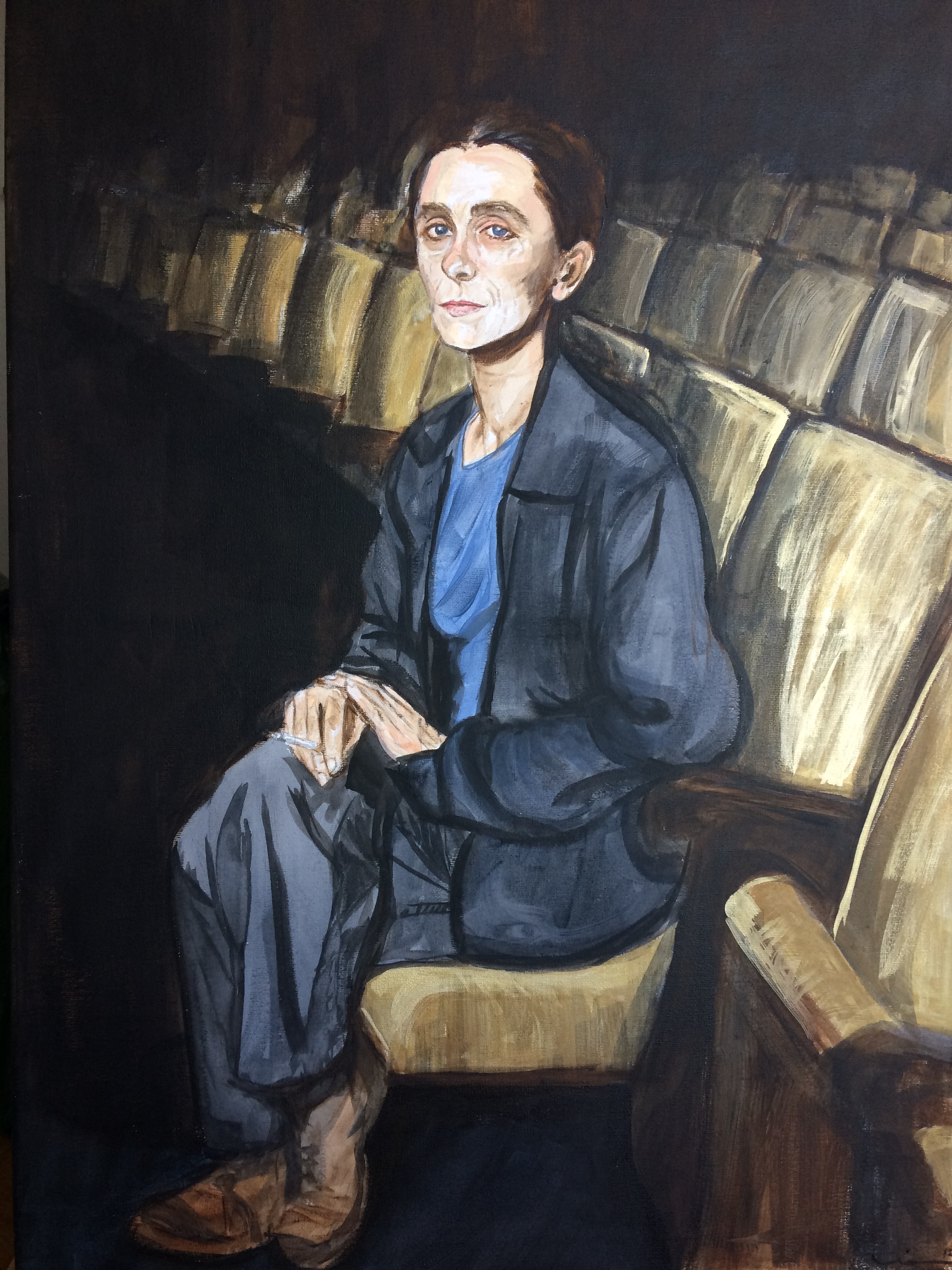 Based on Pina Bausch's incredible choreographies, which work as paintings per se, I developed this small collection of acrylics on canvas (except for one oil).

Some works are not based on Pina's works directly, but are somehow influenced by her on my view of our surroundings. I call that small group "other dances"
All works available for purchase, unless expressed otherwise.
You can contact me by email at liaferreira.info@gmail.com

Left:
Pina Bausch, portrait - sold.
Acrylic on Canvas, 70x50 cm.
Use of gold pigment.
Original painting.
SOLD.